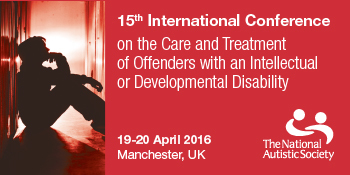 We are delighted to invite you to our conference. This event is recognised as the foremost opportunity, in the UK and internationally, for reflection and sharing among services providing care for learning disabled offenders, both in the public and independent health and social care sectors and the criminal justice system. Book your place now. http://www.autism.org.uk/professionals/conferences/offenders.aspx
The programme offers valuable content across a wide range of topic areas, including:
an overview of forensic learning disability and developmental disability services from an international perspective
benchmarking in forensic LD and developmental disability settings
education and training needs of staff
provision of up-to-date information on legal aspects and complex needs
treatment approaches – what works?
autism spectrum disorders, including Asperger syndrome
learning disability / developmental disability and the criminal justice system
residential and community supervision
mental health legislation and the learning disabled offender
transcultural issues.
More details about the event will be released in the coming months but places are limited so register now.
Call for papers
Papers/workshops are invited from any discipline or perspective relevant to the management or care of learning disabled offenders or those requiring similar services. Proposals by practitioners, service users, decision and policy makers, as well as by academics, students, researchers and advocates are welcomed. Read the submissions guidelines.
The deadline for the submission of papers is 5pm on Sunday 31 January 2016.
Please share this information with anyone who might be interested in this event.
http://www.autism.org.uk/professionals/conferences/offenders.aspx