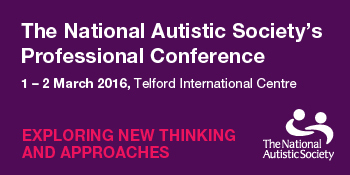 This conference is a must for all professionals working with autism. Last year it was attended by nearly 700 delegates. The event provides a unique opportunity for professionals from education, health and social health sectors to network, discuss best practice and share learning. Expert speakers will present an overview of the changing environment and the latest developments in the field of autism. There will also be a series of seminars to choose from. Book your place now.
http://www.autism.org.uk/professionals/conferences/professionals.aspx
Attend to:
hear keynote presentations from world famous expert speakers discussing the latest developments in the field
choose the seminars which are most relevant to you
learn practical strategies to implement with your colleagues
network with professional colleagues to benchmark your performance and learn from your peers.
Key topics:
improving support for pupils on the autism spectrum within special schools
multi-agency approaches to safeguarding adults
anxiety and mental health in schools
PDA – what is it and how to support individuals with the diagnosis
creative routes into employment
play therapy – working with parents to support their child's needs
motor development and its relationship to other developmental aspects.
Our conference is supported by our headline sponsor, Axcis Education Recruitment.
Please share this invitation with your colleagues.
http://www.autism.org.uk/professionals/conferences/professionals.aspx