Last year carers were invited to complete a survey sharing their experiences of interacting with service providers. A link to that survey was shared on Choice Forum. I want to take the time to thank anyone who completed the survey and share a summary of the work we have done since.
Working Together: A co-production workshop for carers of people with learning disabilities and service providers
Background
Since 2015 a group of family carers and a postgraduate research student have been meeting as a group to develop a co-produced research study. During the first phase of our study we met monthly to explore the experiences of the group. We did not have an agenda for these discussions so they were free flowing. The research student would audio record these conversations and type them up. She then conducted a thematic analysis (Braun & Clarke, 2006) of the recordings. This involved identifying the key themes.
These themes were shared with the group and then used as the basis of the second phase of the study. A key theme we identified was around how interactions with service providers made the carers feel. They were described a lack of trust, feeling like there was a hidden agenda and that the interactions could feel like an invasion. As a group we decided to try and find out if other carers felt this way so co-developed a survey. We also wanted to try and find out how service providers felt about these interactions so developed a second survey for providers to complete.
We received 116 responses from family carers and 50 from service providers. We analysed these as a group and identified that interactions with service providers can place an emotional burden on carers. They described the various ways in which services were inadequate and found communication from services poor. Service Providers felt carers needed to be more open and engaged with services and to understand the limitations of services. However they agreed that communication and accessibility of services needed to improve.
As a group we wanted to share this information with both service providers and carers but also to think about ways in which this situation could be improved. How could interactions be more positive and productive experiences?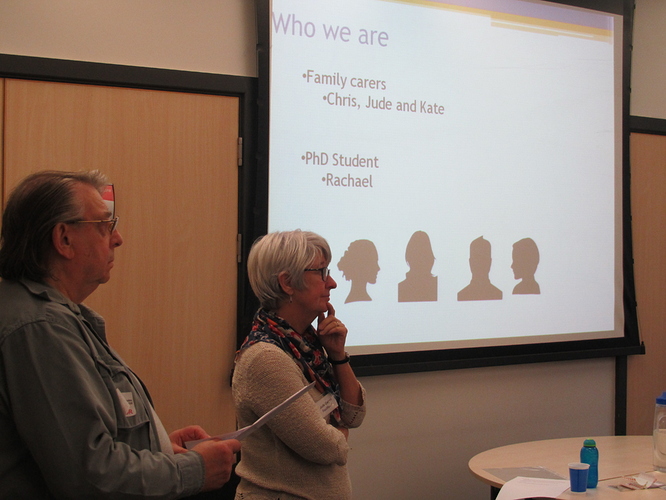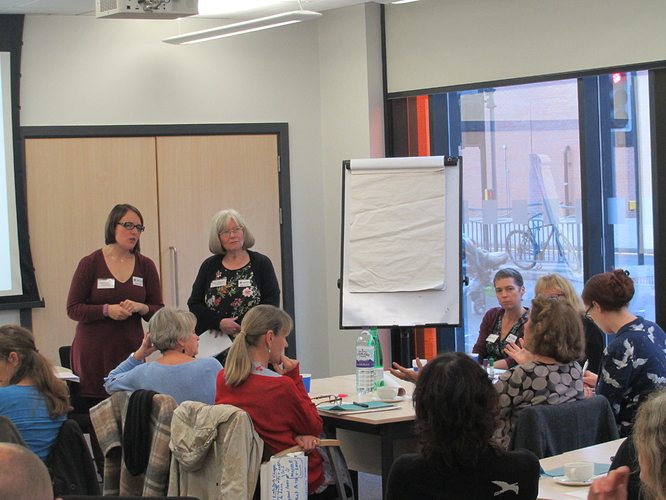 To answer this question we organised a co-production event in October 2017. We invited service providers and family carers to join us at the Central Fire Station on Eyre Street, Sheffield.
We started by presenting the findings from our survey and then moved on to working on individual tables. Each table consisted of family carers, service providers and a facilitator. We asked the groups to think about ways, in which interactions could be less stressful for carers, how communication could be improved and how service providers could encourage carers to be more engaged.
Photograph 1: Working Together Presentation
After the group work we took feedback. Carers told us they can feel side-lined and that communication can feel combative. They felt like they did not always get the information they needed and that when they did interact with service providers it was only when there was a problem. They wanted to receive regular updates about what was happening and to have a named key contact person. They also wanted to know how information was being used so if they were asked to complete a satisfaction survey how their responses would be used to make improvements to the service. Service providers explained how it could sometimes be difficult for them to get the information they needed from statutory services and that they experienced many of the same frustrations. They felt that the term "service providers" covered such a range of services it was difficult to know which services the survey results referred to.
Photograph 2: Taking Feedback
Next Steps
It was a fascinating event and we have taken the feedback from the workshop and are going to use these to produce a set of standards for service providers to use during their interactions with carers. We will also develop training slides for staff and other resources to facilitate more successful interactions. To ensure these resources can work in services we will be creating a working group of local providers to support us to develop them. We will also send a copy to everyone who attended the event for their feedback.
To hear more about the event or the resources we are developing please contact Rachael Black on hcp12rab@sheffield.ac.uk.