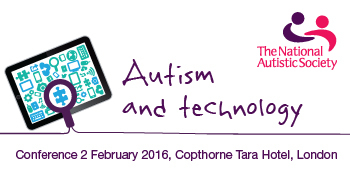 This new, cutting edge conference, organised by The National Autistic Society, will look at how technology can help autistic people as well as the professionals who support them. Key speakers will present the latest research and developments in technology. Topics include: assistive technology, biometric readers and how they can help alleviate anxiety, staying safe on the internet, and the power of online communities and social media. The programme of this event is really great - speakers include Dr Matthew Goodwin, Interdisciplinary Assistant Professor at Northeastern University, Boston, who will be discussing developing innovative technology to enhance research and practice with autistic people, as well as Jamie + Lion and Gareth Ford, accessibility specialists from the BBC who will be discussing autism in the current high-tech world.
Other key topics include:
• being an autistic person in a high-tech world
• using biometrics to predict behavioural changes
• safeguarding on the internet
• online communities and social media
• assistive technology.
Read more or register:
http://www.autism.org.uk/professionals/conferences/technology.aspx