FEEL IT is our workshop teaching about Sensory Processing Difficulties for parents and professionals.
£80pp 9.45am - 3pm
London on 28th June (tomorrow)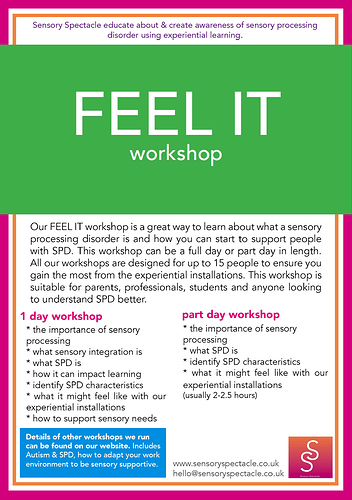 Bournemouth on 12th July
Our workshops are unique as they use our immersive learning tools giving you a personalised insight into how SPD may feel for some children & adults.
We cover
*the importance of our senses
*why we need them for learning
*what SPD is
*how we can recognise and understand characteristics relating to SPD
*how it might feel
*strategies and ideas to support children & adults
Book directly on our website or email us for an invoice www.sensoryspectacle.co.uk/pre-planned
hello@sensoryspectacle.co.uk
This workshop is also regularly booked as in-house training too.