My name is Jodie and I am a researcher at the University of Cambridge.
I am trying to find out more about how people with learning disabilities are supported to make decisions about contraception. This is an important area as previous research suggests that people with learning disabilities are not always involved in decisions about their contraception-use.
Please see the flyer for more information. You are very welcome to share this flyer with others you think may be interested.
I am also available to come and speak to groups of people with learning disabilities about my research. If you are a facilitator of a group and would like to find out more, please don't hesitate to get in touch.
Many thanks,
Jodie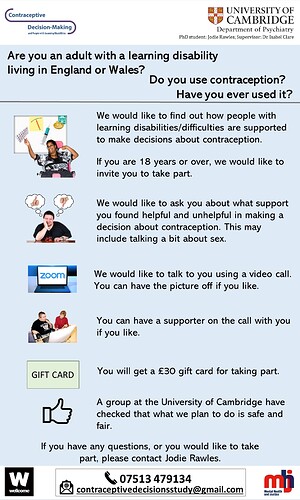 Recruitment Advert A_Final.pdf (324.8 KB)