NEW! Us Too: User-led Training for Social Care Staff

on Domestic Abuse, Learning Disabilities and Autism
Us Too: Women with learning disabilities standing up to domestic abuse**
Did you know that someone with a learning disability is three times more likely to experience domestic abuse?
The Office of National Statistics estimates that almost one in five people with learning disabilities experienced domestic abuse in 2019.
The ARC England Us Too team have spent the last two years using their experiences to deliver training to their peers and professionals about how to keep people with learning disabilities, autism or both safe from domestic abuse and how to escape a bad relationship. We are pleased that we can now offer this training as online workshops for staff and carers supporting with people with learning disabilities.
The workshops are run by two women with learning disabilities, autism or both, with lived experience, supported by Us Too Project Lead Trainer Rod Landman.
"We are women with learning disabilities and autism."
"We have all had experience of bad relationships."
"We hope you can learn from our experiences."
"We talk about how to get out of a bad relationship and have a happy life."
Our learners say: "Warm, supportive and informative." "Amazing experience." "Meaningful and inspiring." "Very powerful." "I learned so much." "I was blown away." "Authentic, safe and nurturing". "Some of the best training I h ave attended". "So valuable to hear from real people". "Very emotive but delivered with grace and safety." "Thank you for helping me to understand and change the way I work." "K and K are inspiring, brave and a delight. Thank you so much."
Who is the workshop for?
Anyone working in social care and supporting people with a learning disability, autism or both.
Places on the above workshops cost:
£65 (ARC Members)
£85 (Non-ARC Members)
---
                   **Half-Day Workshops**                              

Introduction to Active Support
Developing Emotional Resilience in Social Care for Managers
Mental Health in Learning Disability
Places on the above workshops cost:
£65 (ARC Members)
£85 (Non-ARC Members)
---
         Full Day or Two Half-Day Workshops

Positive Risk Management
Self-Neglect and Self-Harm and People with Learning Disabilities
MCA & DoLS for Managers
Places on the above workshops cost:
£90 (ARC ) Members
£120 (Non-ARC Members)
---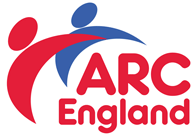 New! Who Assesses the Assessors?
Medication Competence in Community and Residential Settings
15th September 2021 10am – 12.30pm
10th November 2021 10am – 12.30pm
A new ARC England live online workshop which will ensure a high quality and consistent approach to the handling of medication across your organisation.
**NICE say that '**Care workers completing [Medication] training should be observed and supervised by a competent person in advance of administering medication for the first time. This should be an occupationally-competent person working for the provider, not an external trainer.
Managers, supervisors and assessors are responsible for judging the competence of their care workers' ability to safely administer medication for people who use the service.'
Managing medicines for adults receiving social care in the community, March 2017
But what is an 'occupationally-competent' person? And what assessment skills do they need?
This new ARC England workshop is aimed at managers, supervisors and assessors, equipping them with the skills, knowledge and confidence to assess the competence of others.
Places on these workshops cost:
£90 (ARC Members)
£120 (Non-ARC Members)
To find out more please contact one of our experienced trainers:
Angie DeLiddiard angela.deliddiard@arcuk.org.uk
Rod Landman rod.landman@arcuk.org.uk
---
New! ARC England Autistic Spectrum Disorder 3-day Training Programme
We are very excited to launch our brand new ARC England Autistic Spectrum Disorder Training Programme, a comprehensive three-day course that provides participants with a deep level of knowledge and understanding about Autism Spectrum Disorder.
The course is taught by renowned Independent Autism Consultant Dr John Biddulph via Zoom and is suitable for frontline social care staff and managers, as well as teachers, education support staff and family members.
In the words of Clive Parry, ARC England Director:
"This three-module programme is not an autism awareness course – it goes much further than that; it has been developed over many years so that delegates are able to work confidently and effectively and to have a tangible positive impact on the lives of people they support with Autism Spectrum Disorder."
Discounted rate for ARC members: £250
Non-members: £300
---
We can also offer the following workshops for Trainers
Supporting Medication in Social Care Settings for Trainers (previously known as Train the Trainer)
You will receive:
a trainers' pack, including a USB with all handouts and PowerPoint presentation
a sample workbook
an additional 30 minutes of personal support from your tutor, with the opportunity to ask questions and discuss your organisation's specific requirements.
a certificate of attendance
Costs for each of the above Trainer courses (including resources):
£200 (ARC Members) I £250 (Non-ARC members)
**Please note, these trainers' workshops are only suitable for employees of social care providers.
Find out further details on the workshops we offer or contact us at bookings@arcuk.org.uk
---
In-house workshops
We also offer our workshops on an in-house basis exclusively for your organisation. One of our expert trainers can deliver any of our training courses online for up to 16 people per session.
Please contact us for more details at bookings@arcuk.org.uk
View ARC England's Training Portfolio
Let us know you're interested, or ask about our in-house provision!
T: 01246 555043 | E: bookings@arcuk.org.uk